Simple spinach cream is not easy! This simple homemade side dish is much better than store bought! Mix the wilted spinach with a silky white sauce, season with sautéed onions and garlic, and serve with Parmesan cheese.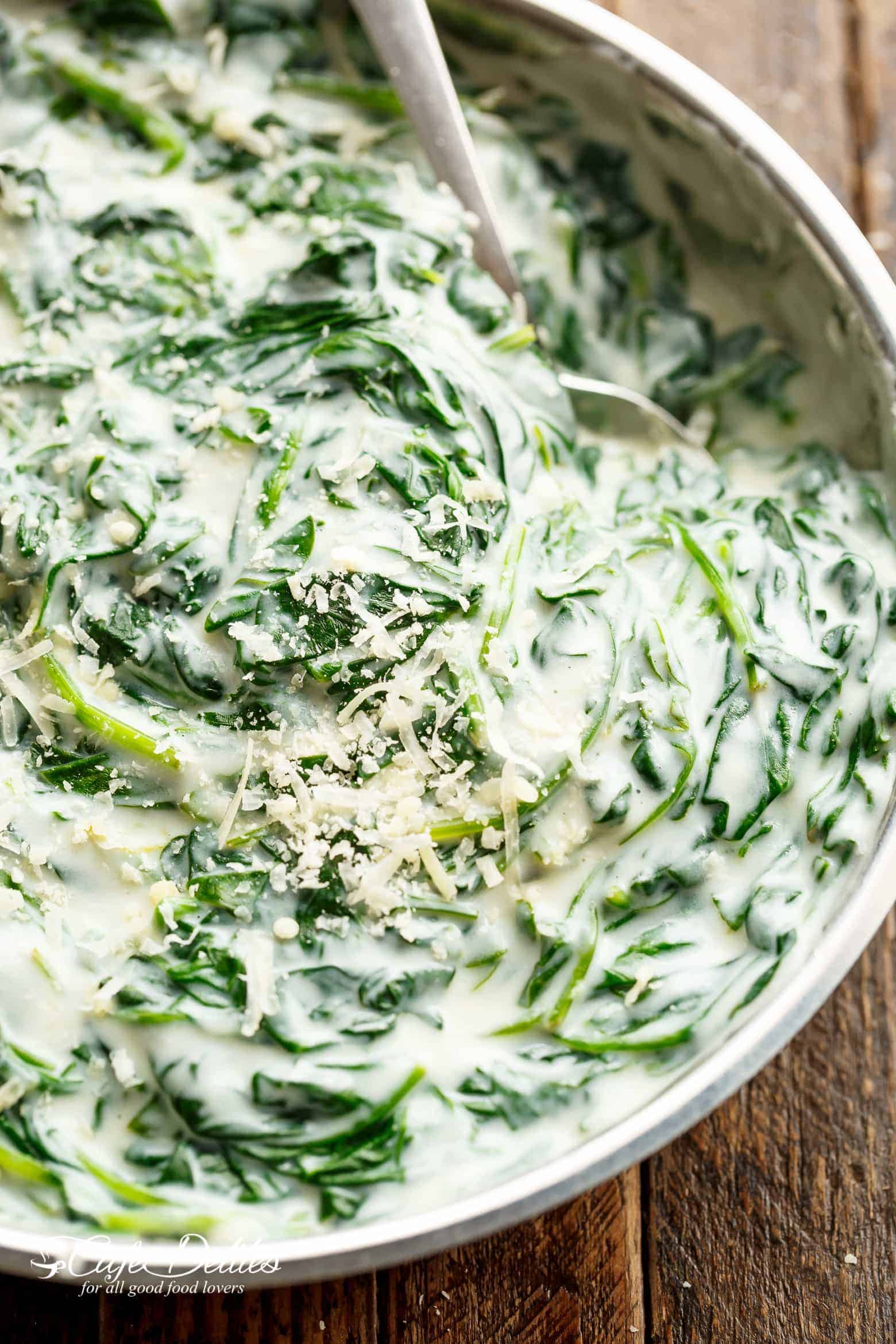 This is the decoration of your dreams! Creamed spinach may be mixed with a bunch of spinach and heavy cream, just like abracadabra, you get creamed spinach. Then this can be a super simple version. However, it's all worth it, stand on the stove and smear the wilted spinach leaves with the best white sauce. Good luck on the table! This is your next Thanksgiving side!
Simple creamed spinach is delicious! This is something I grew up with…not just on Thanksgiving, but at any time of the year. My mother made steak, grilled chicken, and yes, even turkey. He cooks in two ways: using fresh spinach leaves that wilt first in a pot of boiling water or adding butter to a pan. You can do anything! The recipe also includes frozen spinach for faster creamed spinach! Simple creamed spinach!
Instructions Melt 1/4 cup of butter in a medium saucepan over medium heat. Add the flour and cook for a few minutes until it turns light brown. Add onion and cook until translucent (about 2-3 minutes), then add garlic and cook until fragrant (about 30 seconds). Pour in the milk (or half and half) and keep stirring until the white sauce thickens (about 5 minutes). Season with salt, pepper, nutmeg, and chili (if using). If the sauce is too thick, add another 1/4 cup of milk to the sauce and stir until it reaches the desired thickness.
For spinach: melt the remaining butter in a separate frying pan and add the spinach in batches, wilting each batch. Before adding the next one, until all the spinach is tender. (If the pot is too dry, add a small tablespoon of water.) Or: Put the spinach in a pot of boiling water and cook for one minute; then immerse it in a cold water bath to stop the cooking process.
Squeeze excess water from the leaves and keep it. Season the cream sauce with salt, pepper, nutmeg and cayenne. Add the wilted spinach to the cream sauce and gently stir to combine. Sprinkle with Parmesan cheese and eat immediately.